On 15th February 2019, The Honourable Minister, Shri Suresh Prabhu, was on hand to kick off the launch of our portal LearnCab.
Special guests Shri Ashok Haldia and Shri D.S. Rawat were also present at the momentous occasion, along with the core team members of LearnCab.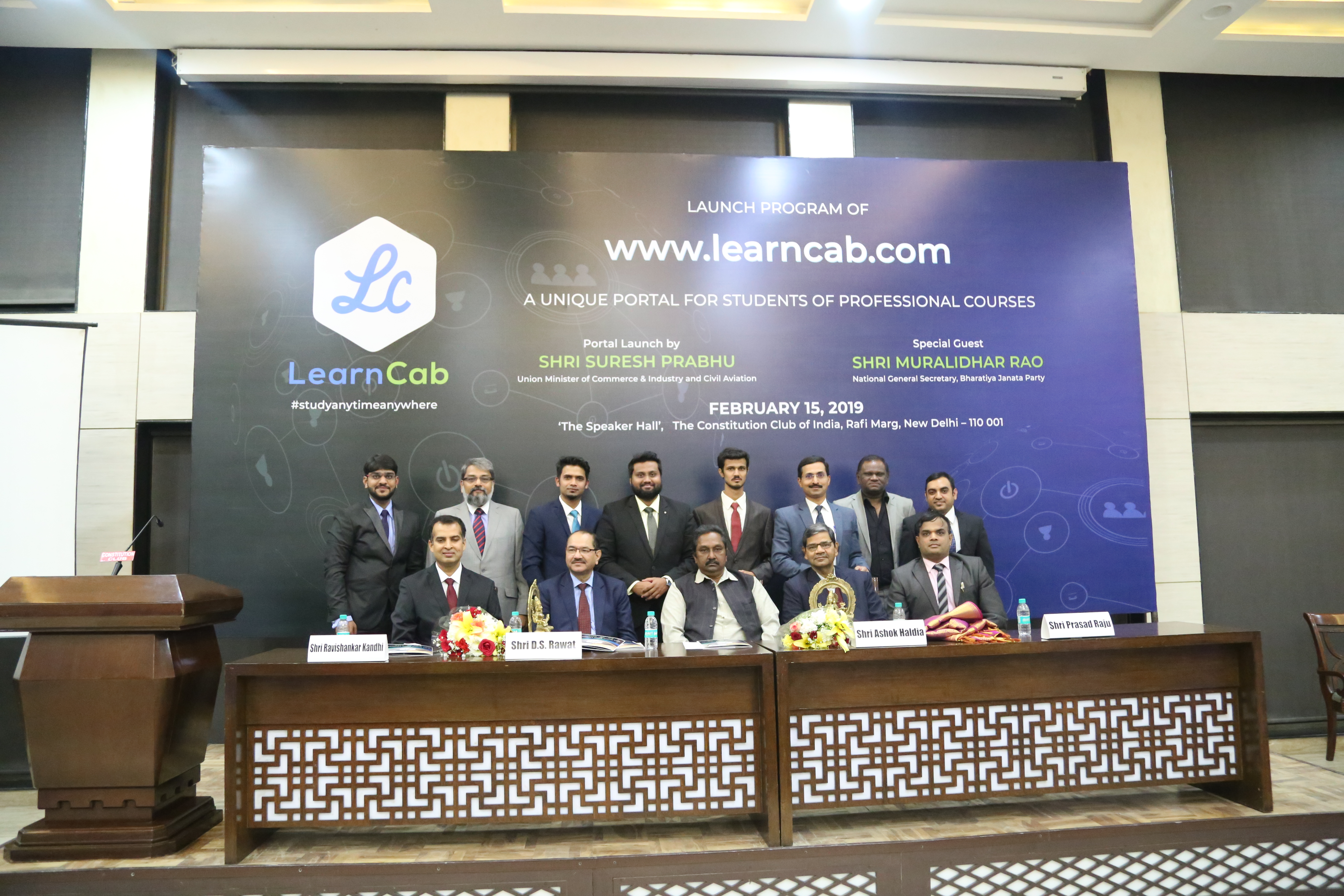 Team LearnCab with the Hon. Minister Shri Suresh Prabhu and Chief Guests Shri Ashok Haldia and Shri D.S. Rawat
The event started off with a two-minute silence in honour of the CRPF personnel martyred in the suicide attack in Kashmir on Friday. Following this, the national anthem was played.
Shri Suresh Prabhu then kicked off the launch of the website with a speech describing about how impressed he was with the platform and how this would bring about a revolution in the way students of professional courses learn and are taught. As a CA himself, he remarked that he wished that he had such a portal when he was studying! He took the time to thank each member of Team LearnCab personally, and for that we are grateful.
Here is his speech in detail:
Here is a tweet of the event:
Union Minister @sureshpprabhu launches https://t.co/HtmKkdsRTM – latest education portal for Professional Courses (CA, CS and CMA) students exam preparation, in New Delhi pic.twitter.com/r2PFBaGkGy

— PIB India (@PIB_India) 15 February 2019
Shri Ashok Haldia and Shri D.S. Rawat followed up with speeches of their own where they congratulated us and remarked upon the future of e-learning and its prospects.
We wish to thank the Honourable Minister Shri Suresh Prabhu, and the chief guests for officially dedicating this portal to the professional course students.
And to the professional students, best of luck in your exams and we hope that our portal will go a long way in helping you achieve your dreams.