The CA articleship, or practical training is the most important step in the Chartered Accountancy Course.
You'll get great practical exposure to the workforce.
And, as such, the choice of from where to undergo articleship, as well as the registration process is important for you to know.
We've already talked about your choices of articleship. So, we won't go much into detail again.
The takeaway is that you'll need to find a practicing CA/ CA firm that has a vacancy for article trainees. There are many such types of firms. Big. Medium. Small. And in a firm, you'll have to work under a Principal who is a CA. With the understanding that this CA is qualified to train articles.
Simple enough.
Now what?
How do you register for CA Articleship?
Once you've found such a CA / firm that has a vacancy and is willing to train you, you'll have to inform ICAI.
To that end, you'll have to fill in forms 102 and 103. You'll have to buy them from one of ICAI's branches for Rs. 50. Alternately, you can download them online. If you choose the latter option, you'll have to send a demand draft (DD) for Rs. 50 to ICAI when sending the form(s).
In addition, once you begin your articleship, you'll have to upload the details of work you've undertaken in a web-based e-diary system. You'll also have a track of your attendance record during work.
Let's now see what the significance of Forms 102 and 103 are.
Form 102: Deed of Articles
Form 102 is known as "Deed of Articles.". (Hence the name articleship!). It's the main contract between the Principal and yourself.
Under the contract, you promise that you will serve your Principal diligently and faithfully. The Principal promises that s/he will instruct you to the best of her/his ability. Also, the Principal promises that s/he will give you as many reasonable opportunities and work as possible to acquire skills needed for accountancy. Note that if you or your Principal does not fulfil obligations under the terms of contract, it will be considered as a breach of contract. There are procedures to follow in case any complaint arises from either party. To go into these procedures will take us to far afield. Understand that ICAI has thought of many scenarios!
While filling out this form, keep in the mind the following points:
Execute the deed on a Non-Judicial Stamp Paper or Special Adhesive Stamp Paper.
The deed is executed for 3 years.
Retain a copy with yourself. The original is with the principal. Both you and the principal will have to sign on these.
You don't have to send Form 102 to ICAI unless there's a long delay in registration from the date of joining.
Form 103: Article Registration Form
This is the registration form  . You'll have to indicate on the form under which scheme you've registered for articleship. (Direct Entry or Foundation Route.). You'll have to fill in details like your name, date of birth, educational qualifications, etc. Your principal will have to fill in his/her details as well in the relevant section of the form.
Follow this link to see what the form looks like.
You'll have to fill in the form in triplicate. One is for you. Another is for your principal. And you'll have to send the third copy to ICAI within 30 days of commencement of articleship.
Along with the form, you'll have to send  few other documents. Let's see what they are.
First, your principal should attest copies of the following documents:
the certificate issued when you complete ICITSS (Integrated Course on Information Technology and Soft Skills); and
your secondary/higher school certificate as proof of your date of birth; and
your marksheet of CA intermediate group I/group II (or both).
In addition, you must provide the following:
an attested copy of your student visa/study permit from the concerned authorities for the duration of the chartered accountancy course if you are a foreign national; and
the required amount fees in the form of a banker's cheque/demand draft drawn on any bank in the name of 'Secretary' "The Institute of Chartered Accountants of India" and payable at the regional offices in Mumbai, Chennai, Kolkata, Kanpur, New Delhi as the case may be; and
an attested copy of graduation/post-graduation marksheet or intermediate exam pass mark statements of The Institute of Cost Accountants of India/The Institute of Company Secretaries of India by a college principal or CA/gazette officer; and
if you are pursuing or want to be admitted to other courses or have other engagements during your articleship, fill in form 112. This form is an application for permission from ICAI to allow you to do such courses or engagements.
Form 103 along with the required documents and fees should reach ICAI within 30 days from the date that you start your articleship.
Late Submission of Form 103
Suppose you are unable to submit Form 103 within 30 days. Then along with the requisite documents mentioned above, you'll have to submit a hand-written letter stating the reason for the delay. This letter is an application for Condonation of Delay. It should be signed both by you and your principal.
You'll have to pay the following late fees for the delay:
  Fig (1): CA Articleship: Fees for Late Submission of Form 103
ICAI may ask you to provide the following additional documents to ensure that there is a valid reason for the delay:
Your attendance records
Original Deed of Articles in Form 102
Certified copy of your work diary
Stipend details in the form of a bank statement
CA Articleship I-card
You might have noticed that in Form 103, there's a provision for a student identity card. (CA Articleship I-card).
Fill it up and affix your most recent passport sized photograph along with your signature. This card enables you to enter the Institute's library and other events. It also acts as a proof of employment. Many small and mid-size firms do not issue an employee ID. This card proves that you are an employee/steward of a CA.
It is compulsory for all CA students. It's valid for 3 years from the date of registration. In case you want to transfer or extend your articled service, you'll have to obtain a re-issuance of the ID card for the balance/extended period.
Submission of Forms
You will need to submit all required forms and accompanying documents to one of ICAI's regional offices that is nearest you. Here's a complete list.
Fig (2): Regional offices of ICAI
After Registration
After you've registered for CA articleship and your forms have been verified, ICAI will send you a confirmation letter with your CA articleship I-card. ICAI will also send the articleship registration letter to you as well as to your principal. It may take up to a couple of months for the process.
If you want to do an additional check of confirmation, you may want to request your principal's membership number. Enter that into the online portal. You'll be able to see a list of articles registered under your principal's name. If your name is in the list, there's nothing to worry.
In case you haven't received confirmation within two to three months, contact ICAI right away. They will be able to give you an update on your status.
Industrial Training
If you wish to join Industrial Training during your final year of articleship, you'll have to inform your principal about your intention. You should do this at least 3 months before the date on which you intend to start such training. By  the way, it's very important to check whether the company imparting Industrial Training is on the list of approved companies by ICAI.
To sign up for Industrial Training, fill in form 104 on a non-judicial stamp paper. Or affix a 'Special Adhesive Stamp'. You can download the form from here. Submit this to the nearest regional ICAI office within 30 days from the date of commencement of your training. (Check above for details of the list of regional offices.)
Note that the period of registration as an Industrial Trainee should not be less than 9 months, and not exceed 12 months. It's to be done during the last year of practical training.
Transfer/Extension of Articleship
ICAI has provisions for transferring or extending your articleship. You'll have to fill in the relevant forms. Look at the section below for an overview of many of the forms pertaining to articleship.
Important Forms Relevant to Articleship Training
In addition to the forms talked about above, there are several important forms you and/or your principal might have to fill in depending on the circumstances. It's beyond the scope of this post to talk about each form in detail. But for your reference, here's a list of some of the more important forms: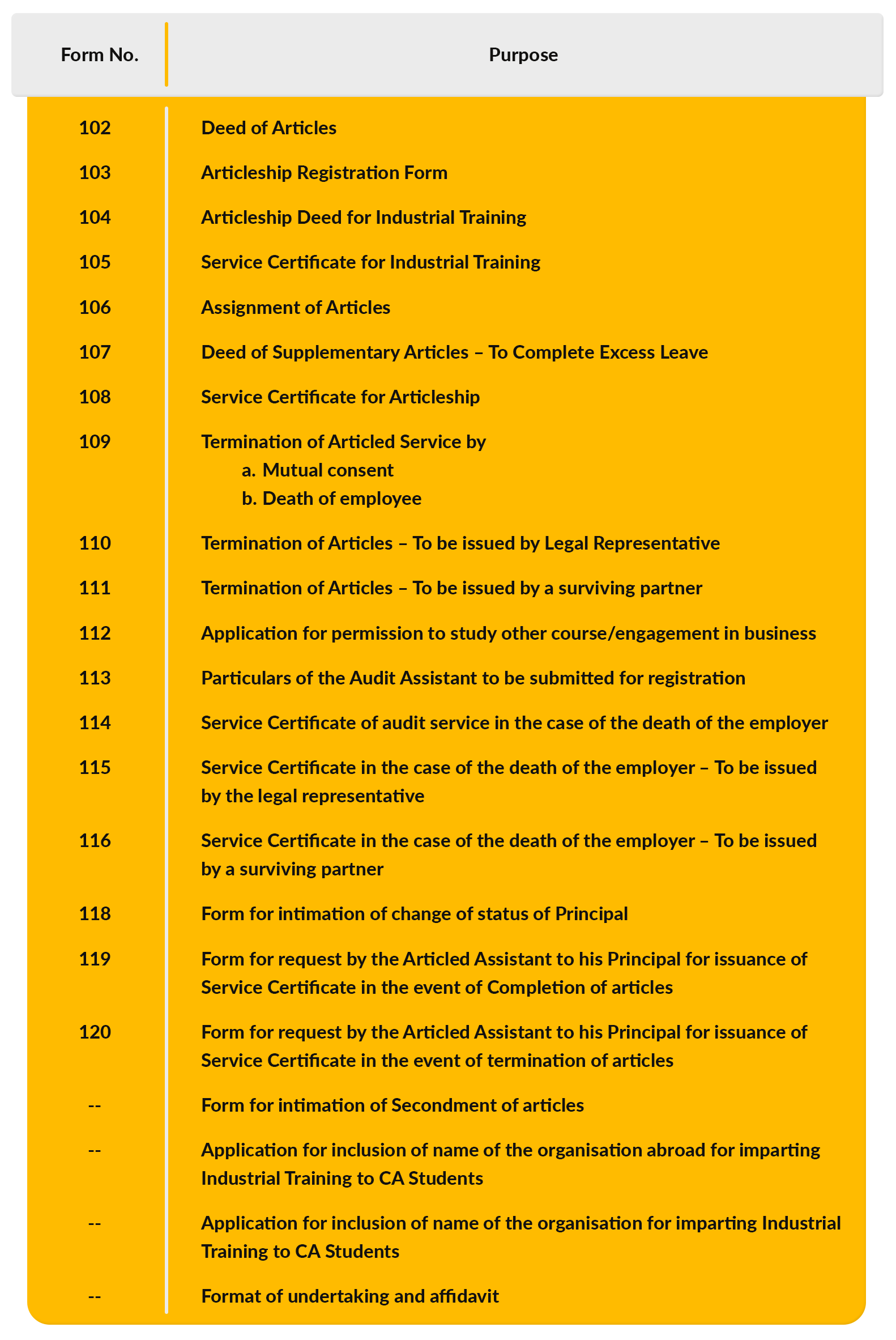 Fig (3): Important Forms Related to CA Articleship 
As you can see, it's a comprehensive list that covers many scenarios!
Have any questions about the registration process? Let us know in the comment section below.